Due to the inclement weather and road conditions, Whitefish will be closed today. Welcome to December. Parent teacher conferences and basketball practice will also be cancelled.
Reminder tomorrow is our 1st incentive field trip for the year. We will be going to the Big Bear. If your student has unexcused absences, major discipline issues or a failing grade they will not be attending the field trip. They will stay back at the school. Students not eligible to attend the field trip will know before they leave school today. Miss Mills will call all parents who have ineligible kids today when she becomes aware of their ineligibility. There will be no one in the office tomorrow 11/22. If you know of any bus changes or appointments please try to contact the office today for tomorrows arrangements. Thank you in advance for your cooperation. There is No school Wednesday, Thursday or Friday. Have a great Thanksgiving.
Just a reminder that our Veteran's Day assembly starts at 10:30 today. School will be dismissed at 1:00 PM with an estimated arrival time to the Newberry stop at 2:07 PM. Our weather is changing so please make sure kids have the proper winter apparel on. All school delays and closings will be via Facebook and our school app.
A few reminders from Whitefish Township Schools : Tomorrow, November 4th starts our Hybrid Fridays. There will be no school on Fridays this month. CTE is still going on these days. Clocks go back an hour this weekend. Locker cleanout is happening tomorrow. Time to prepare for bringing snow pants, boots, hats, gloves, and jackets. November 14th is our Veteran's Day Assembly. It starts at 10:30, there will be a lunch to follow and school will dismiss @ 1:00. If you are wanting to attend the assembly please call the office to RSVP. This is important so we can make sure to prepare enough food. Please keep an eye on when field trips are happening that way if you need to pick your student up early or drop them off early you know whether or not they will be in the building. A lot of sickness is going around right now, while attendance is important it is equally important to stay home when sick.
The Volleyball game today against Beaver Island is canceled.
The Volleyball game today against Beaver Island is delayed by about a half hour right now due to fog.

Our bus is running 15 minutes behind schedule!! Please note that all school cancellations and delays will be on the school life feed and facebook.
Tomorrows tri-match with Maplewood and Grand Marais in Grand Marais is canceled. At this time there will not be a make up game. Tonight's match at OCS is still on. Lets go Lady Rockets!

The field trip that is planned for Davis Farms is cancelled due to the conditions and forecasted weather. We will stay in touch with the farm to see if we can still make it this fall. Tomorrow will be PJ and hat day!!! Thank you for understanding!!

Due to the ongoing plumbing issues, we will be cancelling school tomorrow, Friday, September 23rd. School will resume Monday September 26th a make up date may be added to the calendar later in the school year. Good luck to our Lady Rockets as they travel to Maplewood Baptist for Volleyball tonight. CTE students will not have school tomorrow either.

Over the past week, someone left a nice skateboard at the school. If you can describe it, we will do what we can to get it back to you. Please email
vgross1@eupschools.org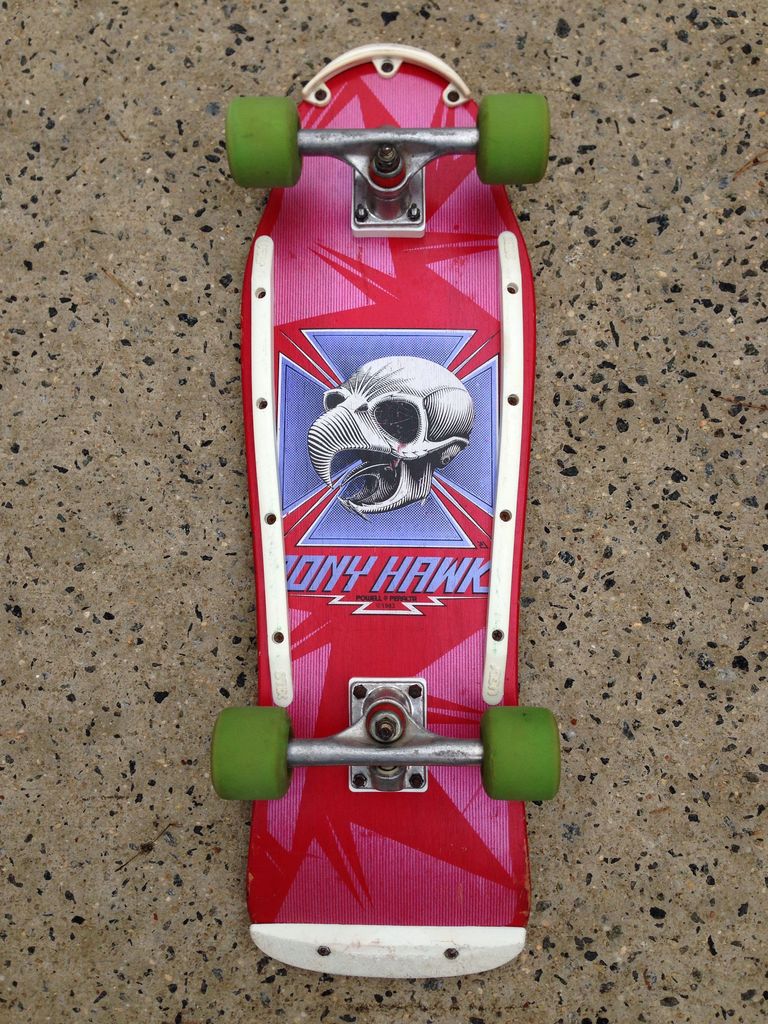 Don't forget!! Tonight is the last open house. We had about 15 families show up for the Sunday open house which means the rest of you will be here tonight! The doors will be unlocked at 5:30 PM. If you are new and have not given us a copy of your birth certificate, immunization records and proof of residency, please bring them (we will make a copy). We look forward to a great year and look forward to seeing you tonight!! School starts Sept 6th!!!

The first open house starts in 1 hour!!! Stop in and meet the staff, fill out enrollment forms, and check out the facilities! Our next open house is Tuesday Aug 30th. Please make sure you come to ONE of them! If you need to turn in a birth certificate or shot record, please bring them with you so we can make a copy! Thanks and see you in Paradise!!

Mark your calendar! New and returning students MUST attend ONE of the open house dates. Sunday Aug 28th 6 PM or Tuesday Aug 30th 6 PM. Enrollment paperwork will be completed at the meeting. School starts Sept 6th. Contact the school if you have any questions! See you soon!!!


Our online recruiting and hiring account is not working. Here is the posting for the Special Education Paraprofessional position. Please call the school should you have any questions.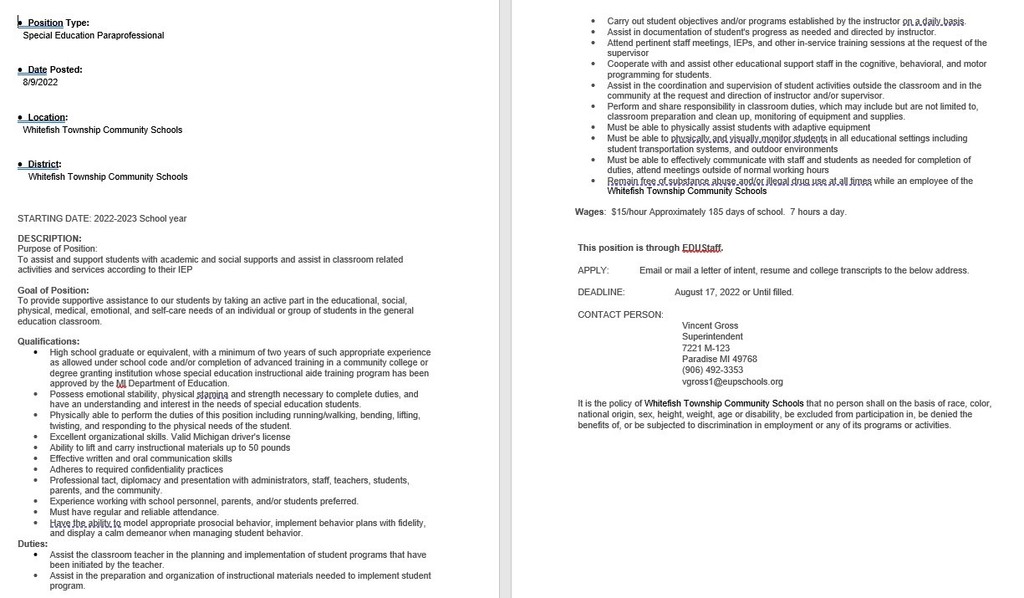 Summer School Part 2!!! The second session of summer school will begin tomorrow. There will be 9 days total-Tuesday-Wednesday and Thursday for the next three weeks. For those students who are attending for credit recovery, 100% attendance is mandatory. Our staff is excited to see you all tomorrow at breakfast and after lunch, you'll be heading home!!

Please join us tomorrow (June 29) at 2 PM at the Wheelhouse as we bid Mr. McKee farewell. The school community is invited!

Due to a lightning strike, the school has limited access to the network which affects our phones and other services. We are surveying the damage. No one is hurt! We think it hit the flag pole.

Due to the weather, the availability of officials and timer system, the Regional 45 Track Meet will now be held at Pickford Tuesday May 24th. Start time will be 4 PM. Those that qualify will secure a spot at UP Finals in Kingsford on June 4th.